Steve Kowit passed away in his sleep early on April 2, 2015. Any inquiries regarding his work & permissions, please direct to mary.kowit@gmail.com.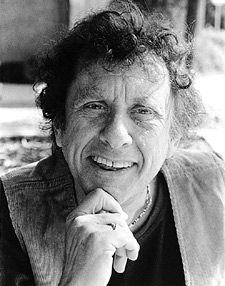 This is the home page of Steve Kowit—poet, essayist, teacher, workshop facilitator, all-around no good troublemaker.
Anyone requesting me for a reading or workshop or who wants to buy one of my books or wants to interview or chat with me, can contact me at my email address: steve.kowit@gmail.com. Now that I am semi-retired (I'm teaching terrific MFA students at SDSU at the moment) I am more free to do readings and workshops. My poetry writing workshops tend to be very lively and useful. I'm the author of one of the best known texts on writing poetry, In the Palm of Your Hand: The Poet's Portable Workshop. I teach half-day workshops (3 or 4 hours), full-day workshops, and weekend workshops. My readings tend to be lively, entertaining and passionate. A boring poetry reading can, as everyone knows, be more painful than a root canal. Here's a silly poem of mine on that subject: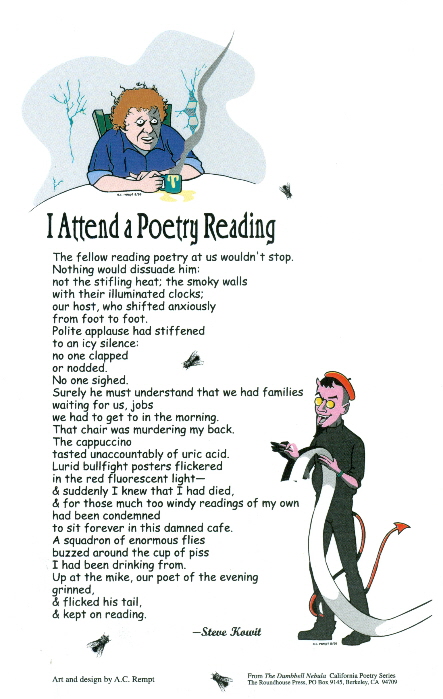 Most of my books are available thru Amazon and thru their publishers, but if you want a signed copy and at a cheaper price, you can send a check to me at PO Box 184, Potrero, CA 91963. Please add $2 to the book price for shipping. I have a more extensive description of my books and sample poems on the BOOKS page of this website.
Lurid Confessions, Serving House Press Edition (2010) $7; Crossing Borders (an art/poetry collaboration with the painter Lenny Silverberg and a deliciously feisty introduction by Robbie Conal), $7; The First Noble Truth $7 paper, $15 cloth; The Dumbbell Nebula, $7; The Gods of Rapture (poems based on the amatory poetry of India), $7.
The anthology of poetry I edited in the mid-1980s, The Maverick Poets, which contains the work of 40 accessible American poets including Kim Addonizio, Charles Bukowski, Raymond Carver, Billy Collins, Jane Cortez, Gregory Corso, Allen Ginsberg, Judy Grahn, Joanne Kyger, Dorianne Laux, Harold Norse, and Gary Snyder, contains cover art and seven drawings by Charles Bukowski. It is available for $10. 
My translation of Pablo Neruda's Incitement to Nixonicide and Praise for the Chilean Revolution, a bilingual edition with drawings by Chilean artists and end notes to the poems by me, is long out of print. But I have about 15 copies of the book which I'll sell for $40 each.
I own rights to all of my poems and I am usually amenable to requests to reprint any of them for journals and anthologies. The same holds true for my essays, some of which you'll find on the essay pages of this website.
Here in San Diego, other than my teaching at SDSU, I do occasional poetry writing workshops for Writer's Ink. I am currently the poetry editor of a fine online literary magazine, Serving House Journal.  
Here's a video of me reading one of my recent poems, "Cherish." The reading took place at a charming little bookstore in the North County region of San Diego, Ducky Waddles in the early summer of 2011: